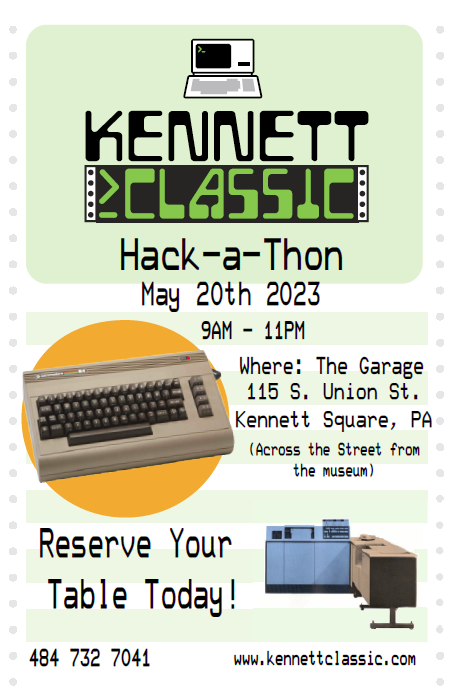 Add me to mailing list so I can stay informed!
May 20th, 2023 | 9AM – 11PM
115 S. Union St. Kennett Square, PA (across from the museum)
What Do I need?
Any vintage computers (older than 20 years) you wish to restore, demo or sell during the day
Hacking? Bring Your Tools (power strip, soldering irons, volt meters, screw drivers, spare parts)
Dolly or cart to bring items in from the parking lot area.
If you're bringing items to sell or you plan to bring a lot of items, contact Bill in advance to be sure we have space set up.
$5/person (use the "donate" link below to reserve your spot, or pay at the door.
Power, tables and chairs will be provided.
You don't have to be an expert!
The hack-a-thon is an excellent opportunity to learn from others and to collaborate on projects. I think it's important for the community to see what we do behind the scenes to repair and restore historical computers. Click here to read more about a recent project.
There are plenty of places within walking distance to eat, drink and visit in Kennett Square
The museum is located across the street from the hack-a-thon and will be open 12-5 as usual.
"The Garage" is located across the street from the museum. In addition to the space shown, there are two additional break-out rooms.
Friends of Kennett Classic
Your Donation Goes a Long Way!
Curation and artifact restoration expenses
Electronics, tools, and repair parts
Exhibit materials, shelving, display cases and related hardware
Library expenses (such as periodical and book dividers, book cases)
Computer software for archiving and inventory
Kennett Classic (www.kennettclassic.com) is a full 501(c)(3) non-profit charitable organization located in Kennett Square, Pennsylvania USA. Would you consider making a donation to the cause?
Every donation, no matter the size counts. Thank you for your consideration!